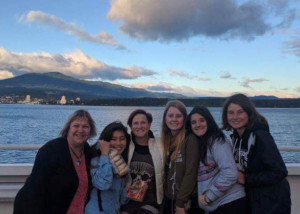 Thank you for your interest in becoming a homestay family.  The stages of the application process are as follows:
Apply: Please complete the Homestay Application form and email it back or drop it off at our office.
Interview: After we have received your application, we will contact you to arrange an interview and will meet at your home.
Background check: Our host families must obtain a criminal records check for all members in the household who are over the age of 18.
Wait for a match: Once we have received all of your documentation, your application is considered complete. We will then include you in our searches when we receive student applications. If we find a match, we will contact you prior to proceeding further, to confirm that you are able to host during the required time.
Homestay Requirements
Private bedroom

Three wholesome meals a day and snacks as required

Quiet, well-lit and heated study space

Hot water and facilities for bathing

You might choose to educate him/her on laundry (you can ask the student to do his/her own laundry using the washer and dryer in your house if you wish)

Emotional support if the student is suffering from homesickness, difficulties at school, etc

Academic support e.g. help with homework, communication with teachers, etc.

Access to the common living areas of the house

Interaction with the family members and participation in family activities
Fees

The District sets the host family fee each year. Under no circumstances are private arrangements authorized unless the District Principal gives approval.
Some students do pay their host family directly. Students who pay directly are expected to pay on the 1st day of the month.
Some Host parents are paid by the School District accounting office. Those families will be informed and are asked not to request money directly from the student. Cheques will be mailed on the 15th of the month.  You may request to pick it up at the School Board Office on that day.
Some agents prefer to pay host families directly on behalf of their students (MLIS/CISS pay on the 1st of the month, GPI pay on the 25th of the month).
The homestay coordinator will notify you of the method of payment for each student. Remuneration is $850 per month (starting September 2017).  If a student moves within the month, then the fee will be pro-rated.
Things to note:
A student is expected to be treated as a family member as this program is NOT considered a room and board experience.  It is expected that your student will experience some Canadian and family activities with you.
B.C. has developed guidelines that explain the roles and responsibilities of homestay families, students and schools. The purpose of the BC K-12 International Student Homestay Guidelines is to provide consistent, province-wide best practice standards for BC's K-12 homestay sector. Click here to download directly from the BC Ministry of Education website.
All Homestay Families will be required to attend a Homestay Information session where you will receive all the latest information pertaining to Homestay as well as the opportunity to ask any further questions. These sessions take place in early September.
Criminal Records checks are required for anyone living in the home over the age of 18, or staying with your student if you are away.  These checks expire after three years from the date on the CRC.
International High School students must not be left alone overnight.  They must stay with a responsible adult over the age of 25.
Students may be moved without notice, so homestays must not rely on income received for the student's care. (This can happen for a variety of reasons and must not be taken personally).